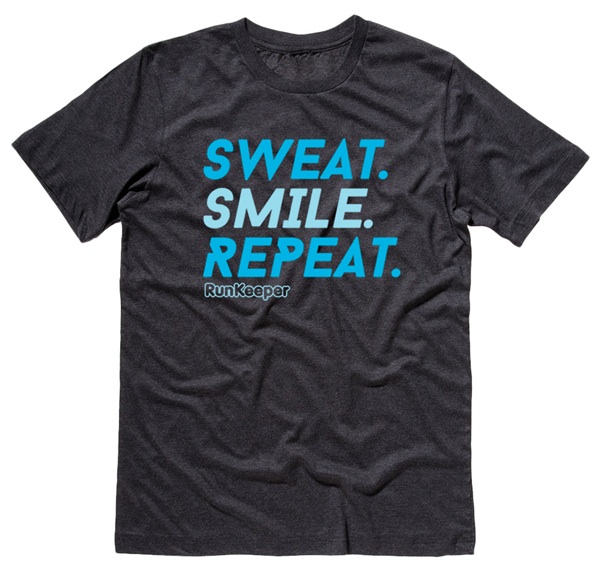 Woo Hoo, I did it! I just completed the Runkeeper.com challenge for May. Well I didn't just finish it, I finished it back on May 31st. The challenge was

SWEAT, SMILE, REPEAT.

You had to use the

runkeeper app

with GPS to track activities and log a total of 5 hours from May 4th -31st. It wasn't easy but I got it done. Needless to say my 3 - 1 hour Jazzercise classes that I do each week didn't count towards the challenge, so I had to add running, walking & biking to get it all in. When doing a challenge like this it makes you push yourself to get out there and do more. I'm a numbers person so of course I had to break it down and see how I could do this. Most activities were 30 minutes of exercise, in the end I needed to have at least 10 different activities logged at 30 minutes each. Although, I wanted to make sure I passed so I went above and beyond and got some extra time in to earn my t-shirt. I did a lot of SWEATING, maybe not a ton of SMILING but I got it done and of course REPEAT to get all the hours in. I ended up doing 15 activities that counted towards the challenge which totaled up to 334.85 minutes or 5.50 hours. I would of had 370 minutes or 6.16 hours if it had started at the beginning of the month like I thought it did. I missed out on two days of 35 minutes of exercise total but still complete the challenge. If you never used the runkeeper app before I suggest you try it. Very easy to use and it tracks a lot of stuff for you. I just use the basic so it's free!