I've had some good book reading time over Christmas Break during our travels back and forth to see the family. I finished Cress, then picked up a short holiday book called the Christmas Bucket List and finally started reading Revived and fished that as well. I'm trying to make my goal that I set for myself at the beginning of this year on Goodread.com. I've read 31 out of the 40 books that I made as my goal. Oops, I'm behind by 8 books right now!. With only 3 days left I don't think it's going to happen but hopefully I can squeeze in one more over the break.
Cress by
Marissa Meyer
I rated this book 5 out of 5 stars, it was amazing! I went through this series of books lickity split.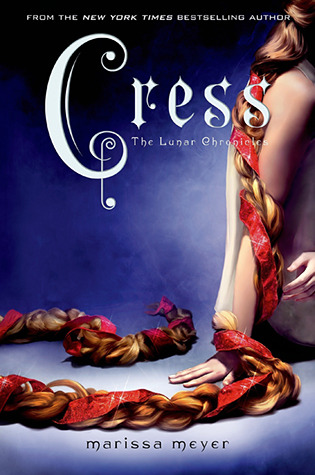 Cress is about a girl living on a satellite and is similar to Rapunzel with her long hair. But that doesn't last for long when utter chaos happens. This book had me sitting on the edge of my seat as I wasn't for sure what was going to happen to everyone. Not real happy how it ended with this last book but come to find out there is now going to be a fourth book. Which isn't a bad thing because I don't want it to end. Can't wait for Fairest: Levana's Story to come out on January 27th.
Goodreads.com Preview:
In this third book in the Lunar Chronicles, Cinder and Captain Thorne are fugitives on the run, now with Scarlet and Wolf in tow. Together, they're plotting to overthrow Queen Levana and her army.
Their best hope lies with Cress, a girl imprisoned on a satellite since childhood who's only ever had her netscreens as company. All that screen time has made Cress an excellent hacker. Unfortunately, she's just received orders from Levana to track down Cinder and her handsome accomplice.
Christmas Bucket List by
Ella Fairlie
I rated this book 5 out of 5 stars, it was amazing! This book showed up on my kindle as a free book to read. I thought why not since it's the Christmas season it's a perfect book to read over the holidays. Cute, quick and easy read. The bucket list was fun but Isobel Gray learned so much more along the way. The storyline had so much more besides the bucket list. Who did you spend Christmas with?
Goodreads.com Preview:
It's Christmas time in London: there's snow in the air, Regent Street is bustling, and the Trafalgar Square tree's all a-glitter. Isobel Gray is dreaming of a perfect movie-style Christmas for her first Noël away from home, and with a hot man and a bucket list of festive fun ready to be ticked off, she thinks she has it all wrapped up. But when her boss-slash-boyfriend goes AWOL just days before the holiday, she finds herself a little Lost, Actually instead. Will she end up home alone, or is there a Christmas miracle waiting under the mistletoe?
Revived by
Cat Patrick
Here's another book my daughter told me to read. I gave it 3 out of 4 stars, it was good! This book didn't suck me in like others I read but I wanted to finish it and see what happened to the characters in the end. Can you imagine being in an accident, dying and then being revived with a special drug. No CPR allowed if your family wants to try the drug on their loved one, it's the risk you take. Well that's what this book is all about but with lots of rules along the way if something happens later on. Huge twist at the end when people are playing God with others lives.
Goodreads.com Preview:
It started with a bus crash.
Daisy Appleby was a little girl when it happened, and she barely remembers the accident or being brought back to life. At that moment, though, she became one of the first subjects in a covert government program that tests a drug called Revive.
Now fifteen, Daisy has died and been Revived five times. Each death means a new name, a new city, a new identity. The only constant in Daisy's life is constant change.