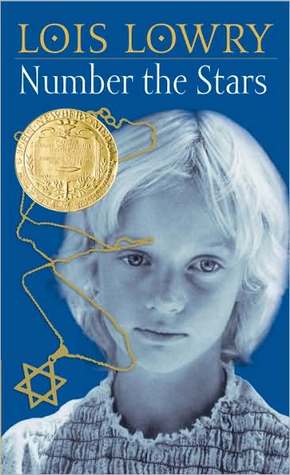 I ran across this book because my daughter, Jamie whose in 6th grade is reading it in her ELA class (English, Language, Arts). Back when I was in the 6th grade it was just called English class. That's going way back and I so remember not wanting to read the books they wanted us to read. I still haven't read in it's entirety To Kill a Mocking Bird, Pride and Prejudice or some of the others books they required us to read. That's what cliff notes are for, right?!? Those books put me to sleep. Now that I'm older I can appreciate a good book and love to read. The reason why I'm reading this book is because she didn't do so well on a couple of quizzes she took on the book. So she had to reread the different chapters and was able to retake the quizzes. Well I couldn't help her out and quiz her over the chapters without reading the book myself. Once I started reading this book, I couldn't put it down. I might have to give those other books a try one of these days.
Number The Stars by Lois Lowry is about a family that lives in Denmark in 1943. It's about the Nazi's coming to Denmark and relocating the Jews. At the end the author explains that the book it fiction (fake) but uses real facts in it from the time period. I loved this because she made up the people but brought in facts from the era for the reader to learn about along the way. I even checked out some websites about King Christian X from that time period to learn more. Check them out here for more history! I read another book in 2013 about a another holocaust - (True story, this book is truly amazing!)


Left to Tell: Discovering God Amidst the Rwandan Holocaust
By

Immaculee Ilibagiza
Encyclopedia Britannica
Holocaust Encyclopedia
I gave this book 5 out of 5 stars. It was amazing! It kept me interested the whole time. Heck, I finished it before my daughter and she started it before me. The story was easy to follow and I learned something along the way.
Goodreads.com preview:
Ten-year-old Annemarie Johansen and her best friend Ellen Rosen often think of life before the war. It's now 1943 and their life in Copenhagen is filled with school, food shortages, and the Nazi soldiers marching through town. When the Jews of Denmark are "relocated," Ellen moves in with the Johansens and pretends to be one of the family. Soon Annemarie is asked to go on a dangerous mission to save Ellen's life